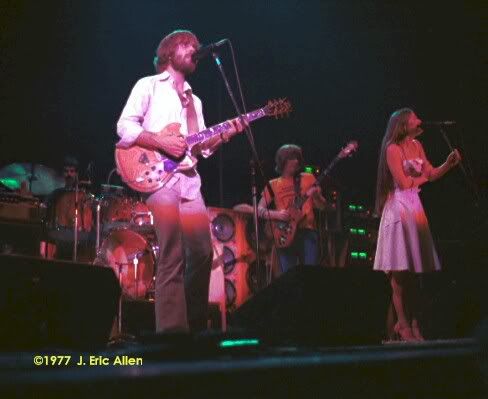 Quote:
Dick Latvala, severed as the Dead's "Master Tape Archivist" until he died in 1999, and he was the master mind behind the "Dick's Picks" series of live Dead shows, which in the opinion of most Dead fans are much more important than their studio output (not just the Dick's Picks live recordings, but any Dead live recordings). Anyway, I recently read an interview with Dick, where he was asked why the May 8th 1977 Cornell show was never released as a volume in the "Dick's Picks" series. To paraphrase Dick's remarks, it was something to the effect of, what would be the point of that? Everyone and their mother already has a copy of that show, and he is certainly correct. Any respectable Dead fan certainly owns a bootleg copy of this show, and it is commonly stated to be the Dead's best performance ever.

So, is it their best performance ever? Well, It is certainly is my favorite Dead show, and 1977 is absolutely my favorite year of Dead recordings, but with that being said, if you listen to other shows around the same time period, they are also excellent, including the show they did the following night in Buffalo, NY, and there are even certain parts of that Buffalo show that I like better than the Cornell show; most notably the opening Help>Slip>Franklin sequence.

So, yes the Cornell show is excellent, and it is my favorite Dead show, and the praise is well deserved, but the pedestal on which the Cornell show sits is not that high above the pedestals of the other shows around the same time period. Before getting into the actual songs, let's talk about why this show is so outstanding and has gained such legendary status. For me, it's 3 key elements…

First, The tape quality: There are several versions out there, but the tape quality is outstanding on almost every recording, and because if this, it spread through the Dead taping community very quickly.

Second, The Set-list: The set-list is fantastic, especially set-2, which I'll describe in more detail later in the review.

Third, and most importantly: Jerry's guitar. This is Jerry's show, and his guitar playing is completely flawless throughout the whole show. This show in particular is the pinnacle of Jerry's signature guitar sound, which in my opinion is a variation of the main riff and sound from "Shakedown Street" (the song).

Set-1
Although Set 2 is far superior to set 1, and the songs on set 2 are really what give this show its legendary status, don't underestimate set 1. They fire right out of the gates by opening with "New Minglewood Blues," which is incredibly inspired, and Bob sounds great. You also get two other Bob (cowboy/ country) inspired winners with "El Paso" and a great version of "Mama Tried". Plus, there's "Loser," "Jack Straw," "Deal," and a snippet of "Row Jimmy". They're not played in that sequence in this show, but I've always kind of grouped those songs together. They all have the same feel, and they were all played to perfection that night. I also want to pay mention to "Brown Eyed Women". Jerry's vocal delivery on the lyrical sequence of "The bottle was dusty but the liquor was clean" has always resonated with me, and it makes that song one my favorites from the Dead. In terms of jamming, Set 1 doesn't disappoint either. You get the Lazy Lightnin>Supplication sequence, and then the Set 1 closer: The almost 17-minute version of "Dancing in the Streets". The song is 17 minutes, but it doesn't seem overly long, and I think they could have kept it going even longer, because I'm sure the crowd was having an absolute blast. In the middle of the song, there's a 10+ minute instrumental jam section where you get the first taste of the guitar tone that Jerry unleases in the second set, so it's a great set closer and provides great foreshadowing of what's to come in set 2.

Set-2
Well, the 1-hour and 20-minute second set is what made this show legendary, and it really is simply astonishing. Set 2 consists of the following: "Scarlet Begonias>Fire on the Mountain, Estimated Prophet, St. Stephen>Not Fade Away>St. Stephen> Morning Dew," and then the encore of One more Saturday Night. These songs are all performed flawlessly and with so much blazing energy and emotion, that it really is jaw dropping. Arguably, the most famous sequence is the transition from "Scarlet Begonias" to "Fire on the Mountain". It is impossible to tell where "Scarlet" ends and "Fire" begins. If you don't already own this show, look for a version were these two tracks are not split on the track listing. This way you get to hear the flawless transition between songs as the audience actually did on that night. "Fire On the Mountain" is the best track of the show for me, and it was my introduction to the Dead. Jerry's guitar sound so unique during this song, I don't think anyone could ever replicate it. It starts at about 4:00 minutes, and then just continues from there for the duration of the 17+ minute track. You then get Bob's "Estimated Prophet," which is also performed to perfection. After "Estimated," you get a 5 minute breather with "St. Stephen," which is needed because then they launch into a 35+ minute sequence of "Not Fade Away>St. Stephen (reprise)>Morning Dew" to close the show. Many fans cite this version of "Morning Dew" as their favorite, and I have to agree mainly because of Phil's contribution. His bass line drives the song, and compliments Jerry's guitar tone perfectly. Then, the show closes with the very inspired encore of "One More Saturday Night". You really have to hear this set to believe it… simply stunning.

I'll say this to close the review. I've seen more live shows from more bands than I can count, and I love live music, but I have a litmus test that I use to judge any live show that I see in person. I call it the watch test. If I'm checking my watch during the show to get an idea of how long the show might keep going, that's not a great sign for the performance. Even when I'm enjoying the music, I sometimes find myself checking my watch. But during the best live shows, time never crosses my mind, and I never check my watch, and I can guarantee that if had been lucky enough to be inside Barton Hall on May 8, 1977, I would not have checked my watch at all.
More
Here
.
Quote:
Set 1

New Minglewood Blues
Loser
El Paso
They Love Each Other
Jack Straw
Deal
Lazy Lightnin' ->
Supplication
Brown Eyed Women
Mama Tried
Row Jimmy
Dancing In The Street

Set 2

Scarlet Begonias ->
Fire On The Mountain
Estimated Prophet
Saint Stephen ->
Not Fade Away ->
Saint Stephen ->
Morning Dew

Encore
One More Saturday Night
Code:
http://tinyurl.com/6ozopdk